Muhammad Saleem Nadeem Bhatti
DIED (due to Kidneys Failure) in the Age of 38 Years at Thursday 17th March 2005 @ 8:15 P.M.
He was :
Mechanical Instructor GPI Layyah,
Father of 2 kids,
Writer of 4 Technical Books,
Pioneer of CAD/CAM/CNC at GPI,
Etc, Etc ...
Some Photographs:
He was great Father:
Celebrating 5th Birthday of his Daughter Anza Saleem Standing Son Saad Saleem ( March 2004)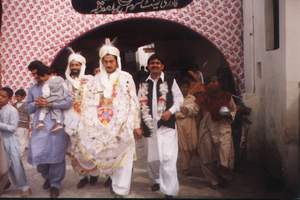 He was always special in marriage ceremonies:
Companion for Grooms in 2001.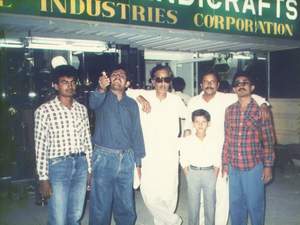 He was the friend of friends:
An Objective snap with friends at Murree in 1989.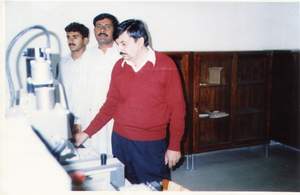 He was creative Mechanical Engineers, His Seniors says:
Showing his project at NTTTC Islamabad Dated 14-03-2001.
He was spreading his knowledge and Experience:
His following last book under by " CIM =Computer Integrated Manufacturing"
Title Page: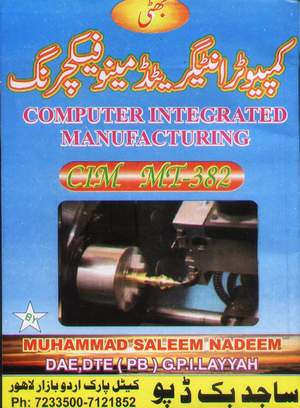 Copyright page: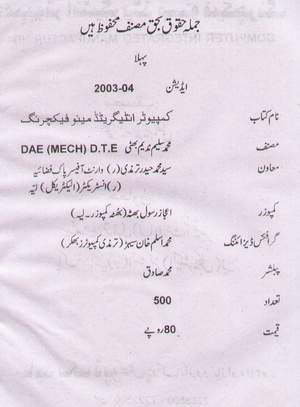 Title Page:
View Page: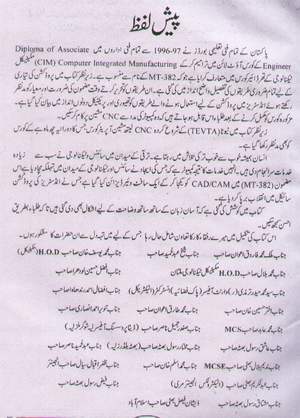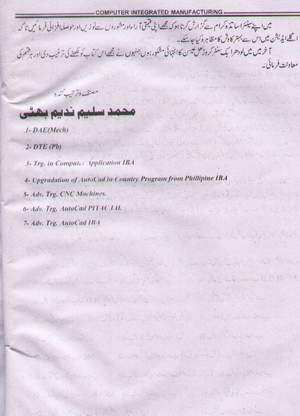 Dedication Page: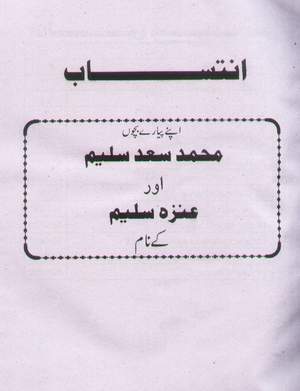 His other books details: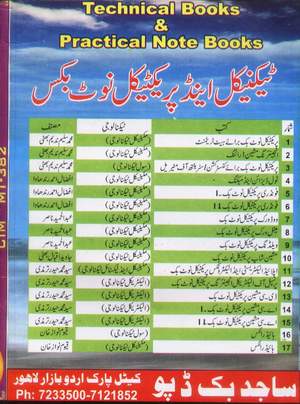 "Saleem Nadeem Ki Yaad Mein"
A book about his life and views of his friends/colleagues/partners/relatives/family members/students/etc...
Please POST your views on line at following link:
Or Post by mail to following:
Haji Muhammad Shafi ( Father of Muhammad Saleem Nadeem Bhatti)
H.No.B-II 524-B, Bhatti Street, W-17, Moh.FaizAbad,
LAYYAH-31200-PAKISTAN
Or
Nadeem Bilal Bhatti [Younger Brother of Saleem Nadeem Bhatti]
Margalla NetWorks,
Office 10-17,Near Daewoo, Pacific Center,F-8/markaz,
Islamabad-44000, PAKISTAN
Ph: 0092 51 2854177 (Off)
0092 300 5111925 (Cell)
Or
Mr. Yousuf Khan (Teacher of Saleem Nadeem),
Mechanical Department,
Government Polytechnic Institute Layyah,
LAYYAH-31200-PAKISTAN